Permanent Address
The title, "Permanent Address," has at least a dual meaning. On one hand it represents how we are connected or anchored to the world. Not too long ago, your permanent address indicated a place where you receive letters and packages. As we moved through school and on to adulthood, our permanent addresses remain a connection to a family or hometown. In our increasingly mobile and electronic culture, this sense of a physical connection has been replaced by the permanence of a mobile connection with an always-reachable, always-searchable presence. We now carry our permanent address with us, in our pockets, wherever we go.
A person's permanent address may also refer to their final resting place. In this sense, we see permanent address as both a place for permanent storage of our personal history, but also as a transcendental burial ritual, enacted with great frequency and regularity. The sculpture's posture, referencing a position of prayer, could be referring to the afterlife (or lack thereof). Yet, with our lives lived increasing online, mourners may one day watch a digital eulogy.
---
In early 2013, Rob joined with artist/scientist, Colin Raymond, to collectively fabricate a seemingly simple but large sculpture. Forced to devise a "team" name for an application, the name Merely Mechanical jumped out from one of Colin's very early writings about the piece. The name seemed to fit both artists' sensibilities and thus an artistic collaboration was officially named.
"Permanent Address" is a roughly 20' tall stick figure built from polystyrene foam, Loc-Line, and plywood. It was originally conceived by Colin as a 6" miniature balsa wood and wire figure (he even made a tiny phone). After a lot of planning and testing, the almost 20' tall version was finished in June 2013.
Exhibitions:
2013 | Artprize | Harris Building, Grand Rapids, MI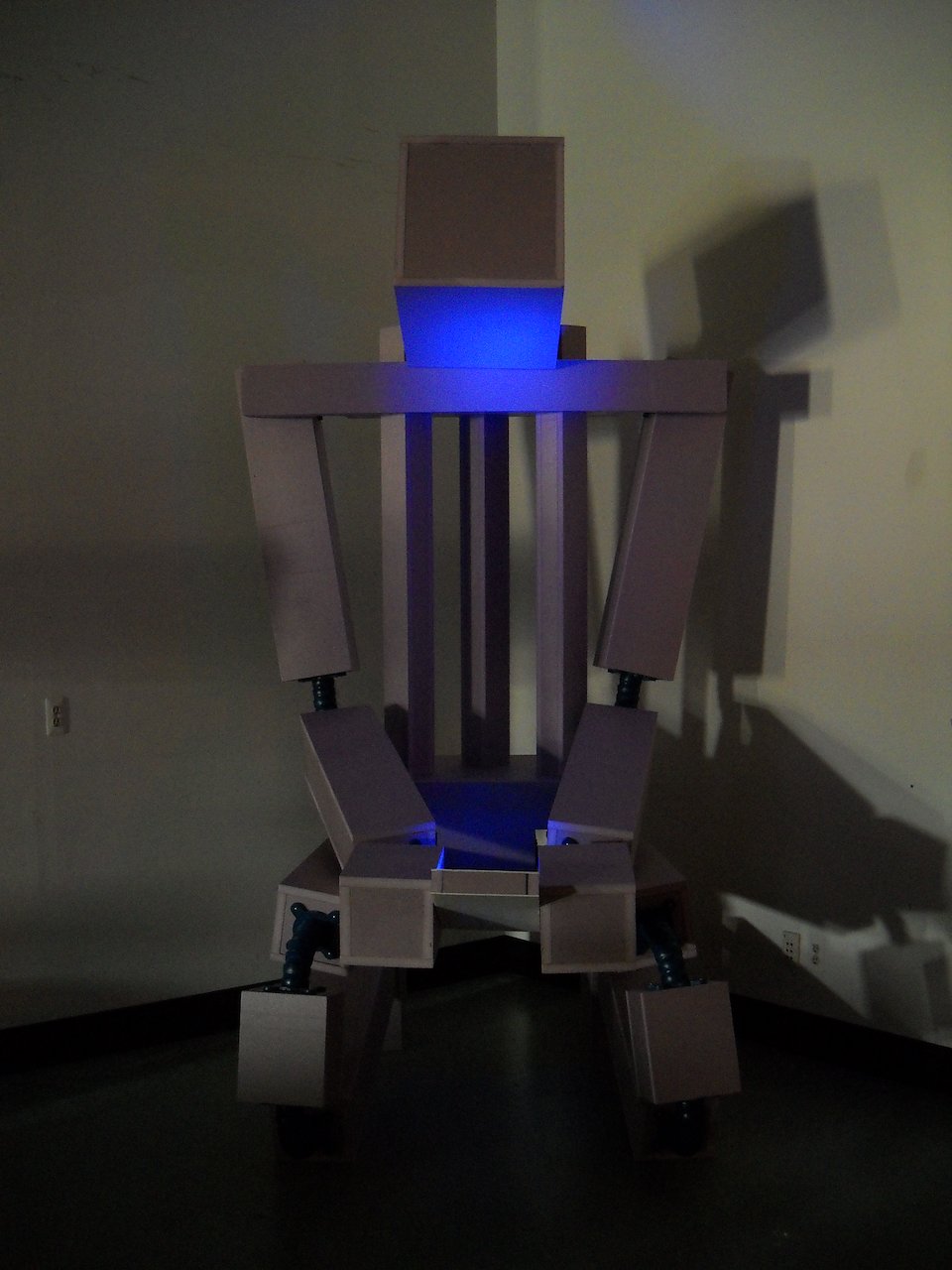 Permanent Address | polystyrene, Loc Line, various hardware | 2013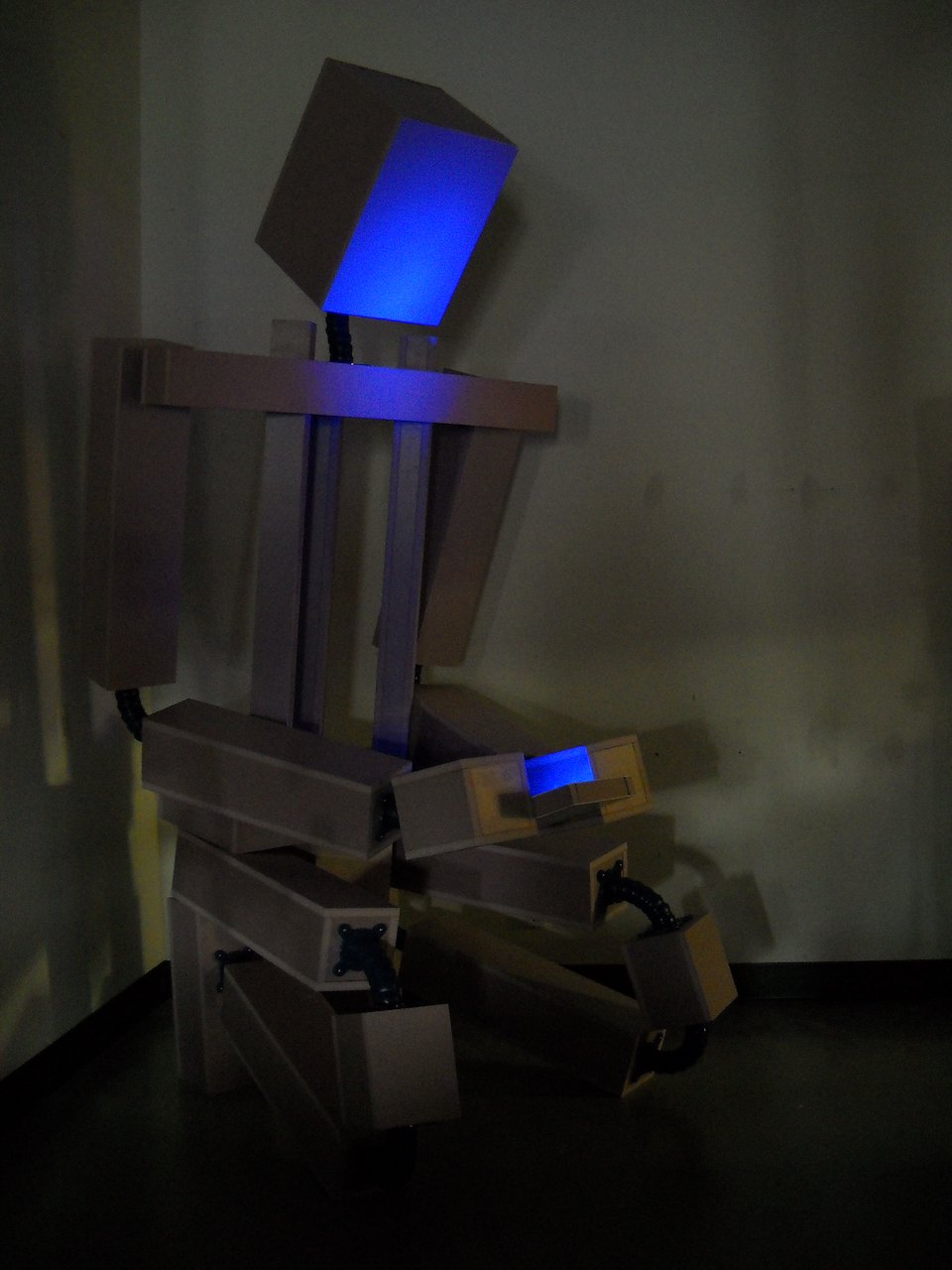 Permanent Address | polystyrene, Loc Line, various hardware | 2013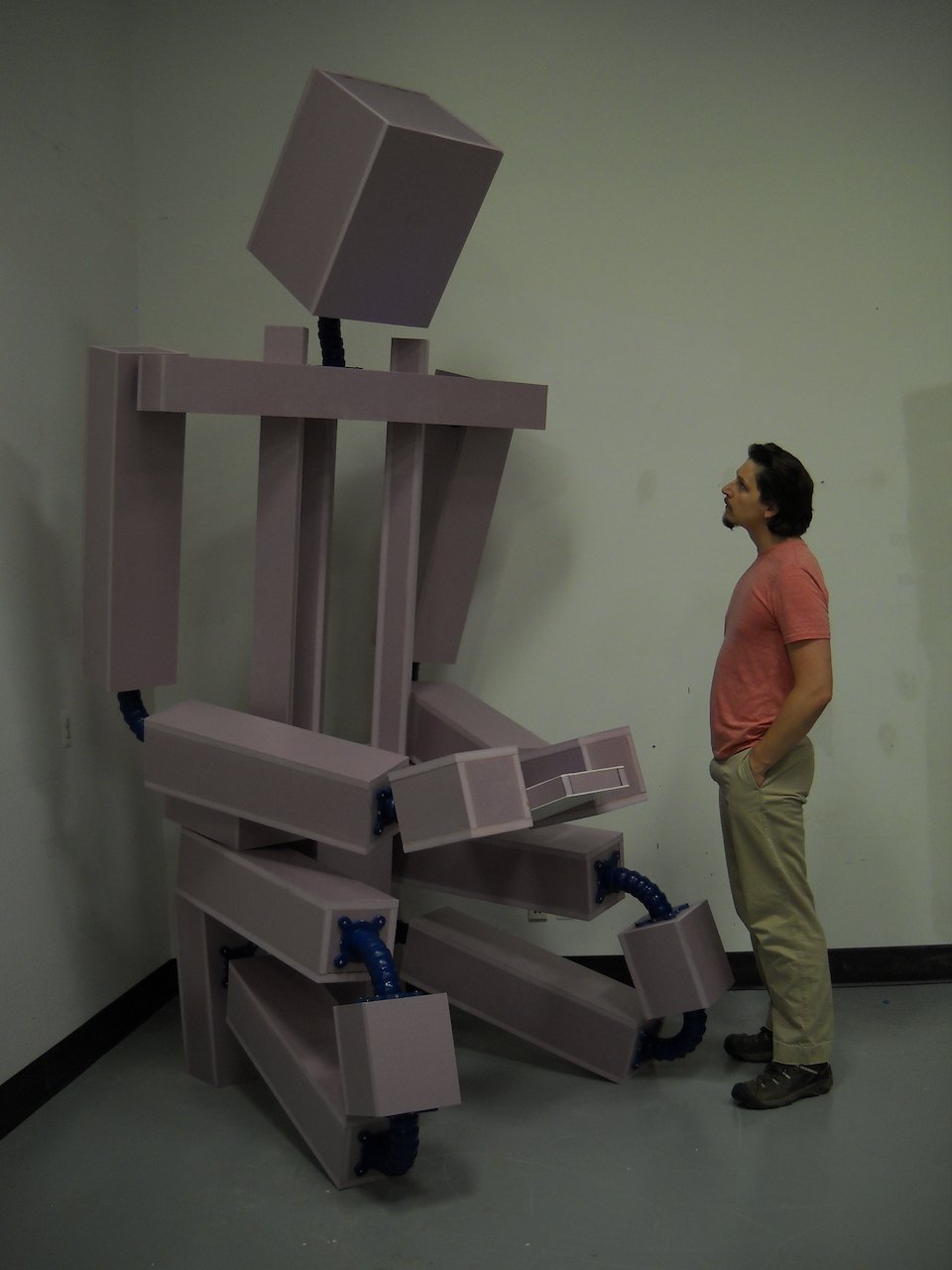 Permanent Address | polystyrene, Loc Line, various hardware | 2013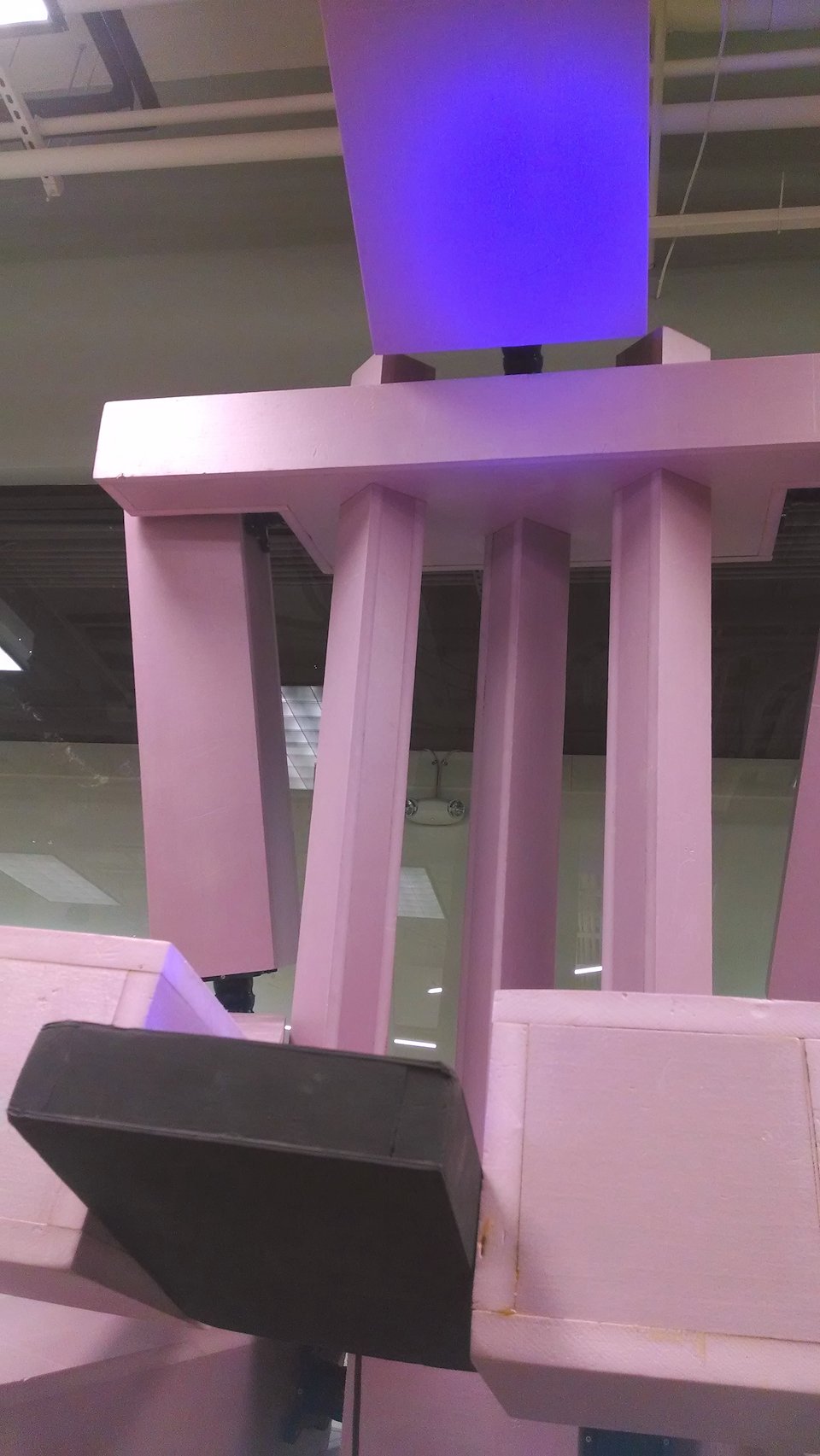 Permanent Address at Menlo Innovations | 2014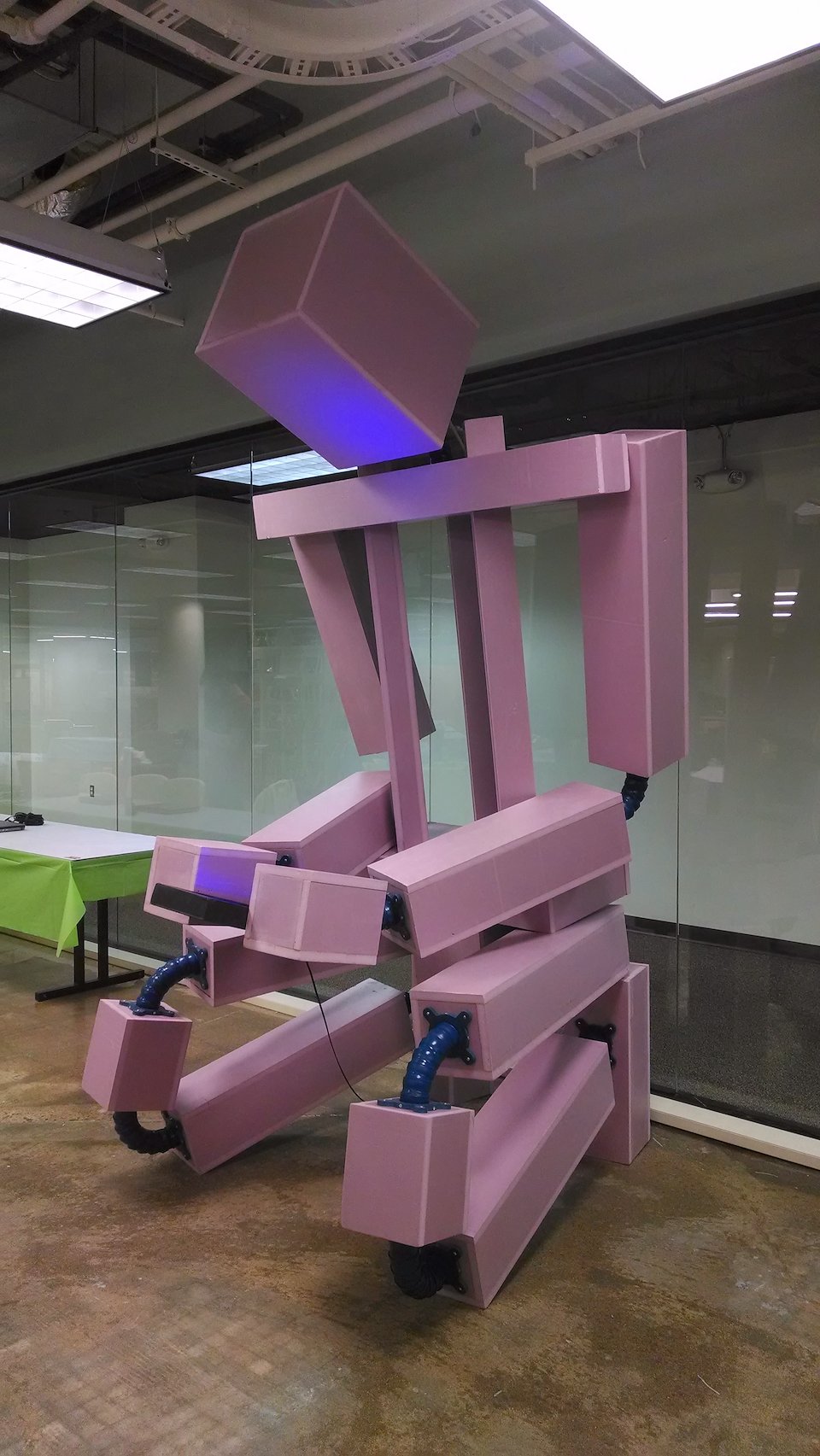 Permanent Address at Menlo Innovations | 2014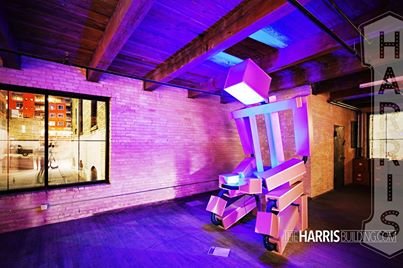 Permanent Address at the Harris Building for ArtPrize 2013
---
Role Co-Creater, Fabricator

For Merely Mechanical

Date June 2013, ongoing
Up Next:
Shelving Prototypes